In my previous articles about my first cooking attempts in the UFO disc, I mentioned that my neighbour got curious too – he decided to buy the new Happy Flame UFO disc. Based on my experiences, he ordered a FAMILY sized disc because he wanted to treat his friends as well as his family.

Initially, he seasoned the UFO, so when I visited him on Saturday, on the table, there was a shiny black disc ready for use, and all the ingredients were nicely lined up. He also prepared a fire hole with scorching embers in it. My neighbour, and my good friend – Joseph chose the very first recipe he found on my blog – Pork neck with onions in a disc, the so called Živánska.
The first step was to put the bacon in the greased disc, followed by the onions, pork neck, slices of potatoes – this repeated until the disc was full. We closed the UFO disc, grabbed a can of beer, and waited for the fire to die down.
Having learned from my own mistake, I advised that we leave more time for the embers to cool. Because there were more cans prepared, my neighbour did not object. This time was enough for the embers to acquire an ideal temperature: there wasn´t any flame, the scorching red could be seen only after a slight blow of the wind. We drew aside the embers, leaving only a thin layer of ash. Then we placed the UFO disc into the hole and surrounded it with embers, placing bigger pieces on the top. All that remained was to wait, after 4-5 minutes we heard the slight fizzing of the bacon grease. At that moment we knew that this time, our food isn´t going to burn and we will have a kingly feast.
My neighbour Monica concluded that we earned to toast, so we were enjoying the view of the UFO with liquor in our hands.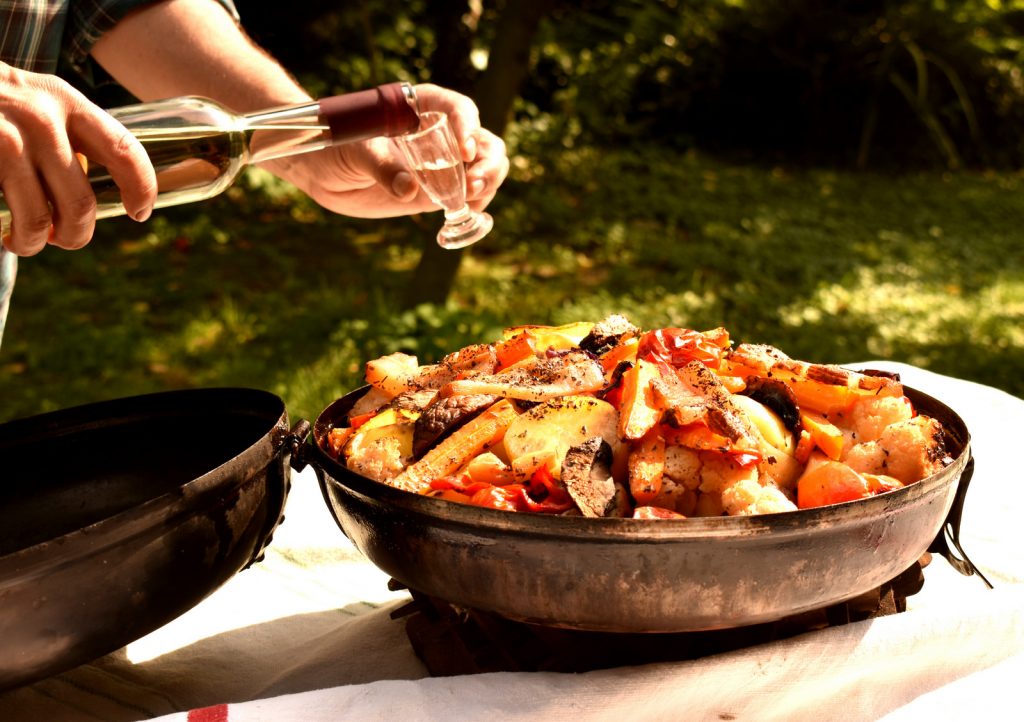 We opened the UFO in half of the cooking time to make sure everything is going all right. We covered the disc and lowered it back into the hole. After an hour we deduced, that the food is ready. We were right, potatoes on the top layer were greeting us with light-brown edges. These simple ingredients brought the UFO to another dimension; every bite of food was delicate, full of light aroma from the bacon. These nonrecurring flavours are indulged only when cooking on an open fire.
My neighbours said that if they could only make this one food in the UFO, it would still pay off. But as I know them, this disc is awaited by a diverse trip in the world of flavours.