Tento recept je obdobou bravčového kolena na spôsob pekárky. Pôvodne by sa mal pripraviť zo surového kolena bez mäsa, s jedným výpekom. Originál som zvykol pripravovať v keramickom pekáči. Pri údenom kolene je však potrebné meniť vodu počas varenia, aby sa stratila silná údená chuť.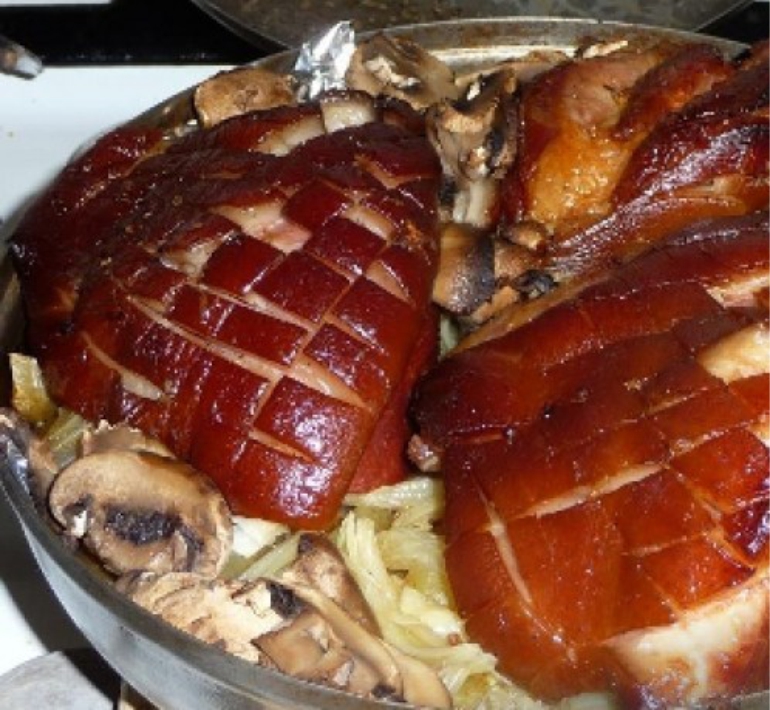 Ingredients:
UFO FAMILY disc for 6-8 people
2 kg smoked pork knee cap
1,5 kg potatoes
0,5 kg mushrooms
1 garlic clove
5 red onions
4 junipers
3 tblsp larde of mangalica pig
1 tblsp ground red pepper
1 tlsp ground majoram
1 tlsp ground black pepper
3 bay leaves
salt

Procedure:

The evening before cooking:
Cook the knees in a large pot. Peel 1 red onion and 3 cloves of garlic. After about half an hour, pour water from the knee. Pour clean water, garlic, onion, juniper and bay leaf into the pot and cook until the meat is tender. Remove the cooked knees from the broth, bone out and let cool. The residual broth can be used as a base for a tasty soup.
That day:

Peel the remaining onion heads, crush the garlic. Cut the red onion in halves and cut into thicker slices. Wash the mushrooms and cut them, peel the potatoes and cut them into cloves.
Melt the larde from the mangalica, but don't let it boil (I usually do this step in WOK, because it's big enough). Mix crushed garlic, marjoram, black pepper, red pepper and a pinch of salt into the melted larde. Put the potatoes and stir without baking (so the spices stick to the potatoes – you can also use spice mixtures for grilling).
Cut the cooled knees in half and cut their part with the skin into grids.
Line the bottom of the disc with a foil, on which you have to place the potatoes. Then store put some garlic, and knee with the meat part down. Spread the mushrooms around the knees and close the disc.
This dish was prepared in the oven for about 2 hours (in my recipe for pickled meat I describe how to use the disc, this tool was originally developed for use in nature.)