My story began last Christmas, when I got the UFO cooking disc as a present from my precious wife.  Honestly, this gift was a ´pig in the poke´ as we had never seen or heard about such a container before.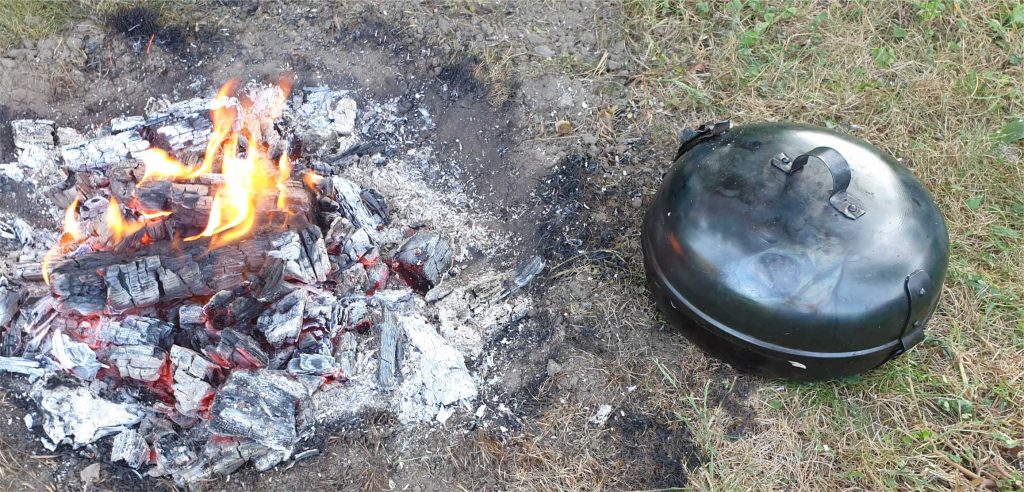 As soon as the weather cleaned up, we were ready to test it. As a first step, we thouroughly researched all the necessary information and inspirational recipes on the Happy Flame website. We learned that the container should be layered with grease or oil before first use, placed on the flames upside down and waiting for it to reach a blue-black color. This ´inauguration´ process is called seasoning.

During the first time of preparing meal we were very careful and chose only ingredients with which nothing could go wrong. After sucessful attempts with chicken thighs and French Potatoes, we decided to supprise our family with a more complicated dish for a Sunday dinner. Initially, we covered the bottom of the disc with foil, layered bacon, potato slices, red onion rings, marinated pork neck and finished the layering with potatoes and bacon. Then we placed the filled disc on the embers and let it bake for 50-60 minutes.

The most important part of the baking process are the embers, as they have to stay during the whole time scorching, but without flames. The key to success is in right amount of hard and dry wood. It is not necessary to stirr the food while baking, so you can freely enjoy your hobbies. The best thing is, that you don´t have to go without your favourite UFO dishes in winter – you can easily prepare them in the fireplace or oven.
Wow effect is quaranteed if you open the disc on the festive board, so the guests can enjoy the delicious aromas of the just made food. Just try it and you will see!
Bon Appétit!