I had the opportunity to get to know this useful tool a few years ago, under the name UFO – cooking dish. As I´m a visual type, I was convinced to buy it by beautiful photos on the website. In fact, I'm not a big gourmet, especially when it comes to hiking, trips and camping, but I decided to invest, because we will definitely use it in the family circle.
When choosing the size, I was careful, if I go alone to wander through the woods, then something smaller, easily portable will be enough for me. However, if we decide for a large family dinner, then I can still buy another piece later.
For the first time, I used the UFO disc while fishing. Of course, I started with seasoning – I applied a thin layer of oil on the inside and outside of the disc, placing it open on the flame until its color changed to purple.
As a precaution, I first lined it with foil, for I was afraid I would burn the food. I quickly found that this step was necessary not only for caution, but it simplifies subsequent cleaning.
For my first experiment, I decided to choose pork neck, sausages, potatoes, onions, carrots, salt and pepper – and shovel into the hearth! The food was prepared for about an hour. The result was tasty, velvety and very juicy food, but I must admit that it was more overcooked on the edges than I wanted. Unfortunately, I don't remember if I was spinning the disk then, but since then I've been doing it like this: For one hour I leave the UFO in the hot ash, be careful not on the flames (!) and meanwhile roll the disk every 10 minutes (bottom-up and vice versa). I will do this with either a piece of wood or a branch. At first, the outside of the disc gets a little dirty, but later on, the ash can be wiped off nicely. This keeps the disc clean on the table.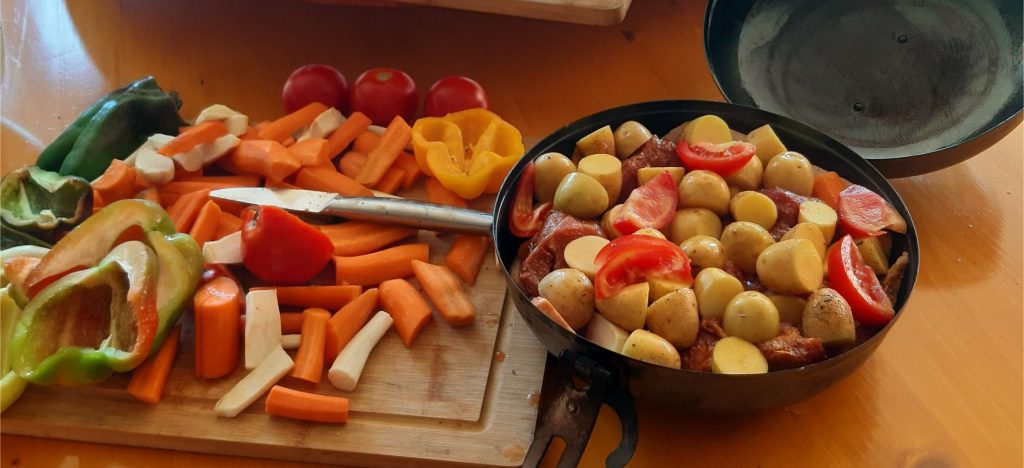 The ingredients in the disc become very soft during cooking and stewing. Although crunchy vegetables can be prepared in a special way, it is not the primary goal. What can be prepared on the disk? There are no limits to imagination. I have already baked bread in it, but most often I use it to prepare potatoes, vegetables, bacon and meat.

I use classic detergents and metal container cleaners to clean the disc. With this I can perfectly clean the UFO, both inside and out. I've also heard that food doesn't burn if we leave a black layer of soot that forms during burning. However, my experience says that the most effective prevention against burning food is being patient. Before, I greased the UFO, but later I realised that it´s unnecessry . The reason is that the grease has ruptured after a long period of non-use of the disc, and it is also sufficient to wipe the container dry after washing. This will prevent unwanted corrosion.
To sum it up, the UFO cooking disc is a very useful tool. Thanks to its lightness (not even 0.5 kg), the TOURIST variant is also ideal for multi-day hikes. Ingredients can be stored in it practically, but it is also ideal for smaller family gatherings!